Himmelblau (Azure)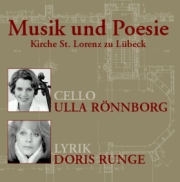 In this CD-project the poet, Doris Runge, and the cellist, Ulla Rönnborg found each other: for the one it is a substantial reduction of the lyrical entity "word" and for the other it is a complete scarcity of the musical sound in its essence.
In a review for the "Deutschland Funk" (German radio channel) Jochen Missfeldt said about the Hebbel award-winnder, Doris Runge: "The words of Doris Runge are balanced upto a thousandth gram. They serve as the raw material which that is going to get shaped in a lyrical workshop. This time-consuming and strenuous work decides whether the simple "word" will turn into great poetry. All in all: Doris Runge's poems are a great piece of art." Ulla Rönnborg again is one of the distinctive soloists of northern Europe, who has a very unique interpretation and goes her own way. In Himmelblau the lyric poetry meets musical compositions from Scandinavia.
Hans Abrahamsen (*1952), Sonate für Cello (1988-99, 11'00);
Ingvar Lidholm (*1921), Fantasia sopra laudi (1977, 5'20);
Hilding Rosenberg (1892-1985), Intermezzo (1974, 7'40);
Sofia Gubaidulina (*1931), Präludien (1974);
Teppo Hauta-Aho (*1941), Improvisation (9'30);
Atli Heimir Sveinsson (*1938), Dal Regno del Silenzio (1989,11'00).
The strained relationship of the contemporary music from Denmark, Sweden, Finland, Iceland and Russia reflect the art of Doris Runge without diminishing it; the poems (or better: the "lyricalizations" let the language appear very musical, without stealing the music its energy.
A whirring and muddling Experience, beguiling in the dialogue between poetical language and cello, the portrayal of the human voice as Pablo Casals calls it.