The Swedish Sound - Swedish Cello music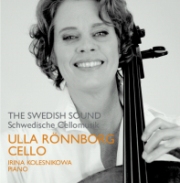 The classical music from Sweden is usually not in the focus of the worldwide musical audience - a big mistake, as the following recordings by Ulla Rönnborg on the cello accompanied by Irina Kolesnikowa on the piano will show us. Severe and powerful sounds, combined with a soft and melancholy mood, create a until now unknown and complex portrayal of Sweden that gives us a new perspective: At the edge of our listening habits lies a musical treasure, that is definitely worth to be dug up.
From Franz Berwald we will hear the Duo for piano and violoncello composed in the year 1857. A piece, with which Berwald added an up till then unheard colour to the mainstream of the 19th century.
Hilding Rosenberg, one of the most formative personalities of the Swedish world of music is twice represented. Beside his Sonata for violoncello and piano from 1932, we will hear his Intermezzo for solo cello from the year 1974 - both pieces reflect the creative range and musical deepness of this magnificent composer.
Ingvar Lidholm's Fantasia sopra laudi (solo cello) - dedicated to his teacher Rosenberg - it is of ethereal beauty and a musical flotation.
A particular attention shall be given to the Elegiac Suite by Gunnar de Frumerie from the year 1977. This CD provides the first recording of this piece. A suite with six movements, appears to have a classical structure and yet in its realization is still very modern.